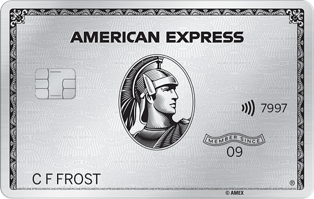 The American Express Platinum card is referred to as a pure status card. Not just 'status' in being able to show off, but also the status to hotels it will provide. There are many other perks and credits that make the $550 annual fee easier to swallow on the first statement of every anniversary year.
Arguably, one of my favorite credit is the $100 Saks Fifth Avenue credit which is broken up into $50 increments every six months. For me this is a lot of looking for clearance items on the website or even the occasional purchasing of other items when on sale. With the choice of keeping the item purchased or gifting, it really makes the credit easier to use. Some will ask "But will you have bought from them before?" and to that I say "I may have". This is because whether I purchase a cardholder from store A or store B is irrelevant to me. If the style and quality are comparable enough, then I would be fine with either.
The $200 Uber credit, which also includes Uber Eats, is also another credit that is relatively easy to use, especially since I am located in a large city/county. On days where my family and I want to order out and just feel lazy, we can use the credit and have takeout delivered. On the off-chance that I am at a friend's house or am out and about and need a ride somewhere, I have the convenience of using Uber or being able to use Uber to help others. The convenience aspect of it alone is very valuable to me.
Another credit, which is often forgotten or overlooked is the Fine Hotels and Resorts Program. This will be very useful when my family and I travel. We often stay at hotels and this perk will come in handy as we would get perks such as daily breakfast, room upgrade, complimentary Wi-Fi, being able to check in at noon (for the times where we get there early) and being able to check out at 4 pm.
The credit that I will eventually work myself towards is the $200 airline incidental fee. This fee is a real pain as the charge must be "incidental" such as for checked bags and in-flight refreshments. In the past, there have been cases where certain combinations of gift cards from certain airlines would trigger this credit, but recently American Express has apparently closed these loopholes. I guess another way to look at it is that it is a chance for me to "spoil" myself with airline refreshments…
Something I want to mention is that I do have plans in the future to get the American Express Charles Schwab Platinum card. This is the card that allows you to cash out the MR points for 1.25 cents-per-point. All the different versions of the Platinum cards count as different products and you will receive the sign-up bonus for all of them if you do apply for them.
The last thing I want to mention is the coveted 100k MR point targeted offer. Some have said that it is better to hold out on getting any American Express cards until you have been targeted (either via the Card Match tool or by mail) to get the offer since it becomes significantly less likely to nab this offer otherwise. The public offer is 60k MR points for $5k spend in 3 months; the incognito offer is currently 70k or 75k MR points; the referral link offer is 60k MR points as well. I always make sure to check all of the offers and usually even play with it for a couple days before choosing the higher value. So unless I get targeted for the 100k offer some time within this next year, I will likely settle for the 75k offer. But until next time…
We appreciate you letting us be apart of your Break Time,
Checking out, Kenny